Accomodation
Shops
Food & Drink
Ashgate Hospice
Portland Square, Bakewell, de45 Phone : +44 (0)1629 814794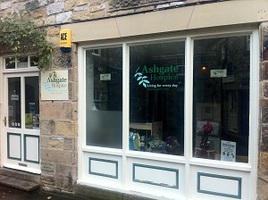 You will be able to find all sorts of good quality items in our charity shops, including clothes for all ages, special treasures, bric-a-brac and more. Not only this, you will be supporting the work of Ashgate Hospice too. Each shop raises valuable funds as well as providing an important service to the community and a link with Ashgate Hospice itself.

You can also support the shops by donating anything you�d be pleased to buy (Please be aware we cannot currently accept white goods, food items or nursery equipment).You can take your donations to any one of the shops or to Ashgate Hospice itself, or if you need your items collecting, we are happy to help. Contact the Fundraising Team for more information.

Opening hours are Monday to Saturday 10.00am to 4.00pm and Sunday 11.00am to 4.00pm.
Visit Website